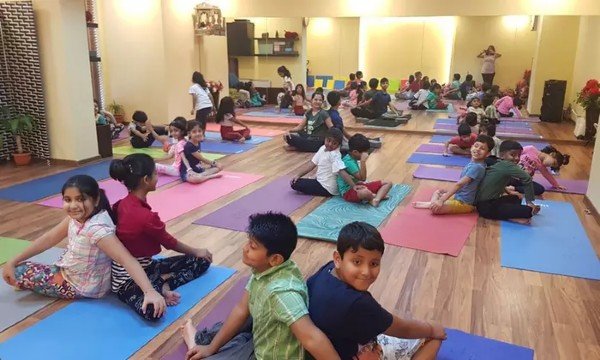 Yoga presented in a child's language can help counter the stress experienced by little ones living in a hurry-up world of busy parents, school pressures, incessant lessons, video games, malls, and competitive sports. We usually don't think of these influences as stressful for our kids, but often they are. The bustling pace of our children's lives can have a profound effect on their innate joy—and usually not for the better.
I have found that yoga can help counter these pressures. When children learn techniques for self-health, relaxation, and inner fulfillment, they can navigate life's challenges with a little more ease. Yoga at an early age encourages self-esteem and body awareness with a physical activity that's non-competitive. Fostering cooperation and compassion—instead of opposition—is a great gift to give our children.
Amazing Benefits
Awareness of The Breath
Breathing exercises can energize kids or encourage relaxation. Focus increases, as does their breathing and lung capacity. Stress is naturally reduced and healthy hormones are released.
Stretching and lengthening
Yoga poses stretch muscles and through integrating breathing and movement, muscles become warm and become more flexible. They can yield when they need to, and support tender joints in a more functional way.
Meditation and relaxation
Yoga is meditative by nature. So whether a child is holding a balancing posture, sitting in meditation or moving through a series of poses, there's going to be a calming, soothing quality.
Strengthening And Energizing
Help build strength as well as body awareness and coordination. Bodies that are strong digest food better, maintain a healthy weight and can support the stress of carrying heavy loads, like a backpack. Bodies will also breathe better, work more efficiently and protect the more fragile joints.
Awareness and focus
Yoga helps create awareness in the body through deep breathing and movement. It gives kids a way to express themselves, build a strong connection between what they hear and what they do. Children that have healthy body awareness are more confident and strong, have better posture, breathe better and have a sense of quiet strength.
Flowing, connecting and integrating
When we string poses together, we give kids a taste of what it means to move with ease. It also helps them build the awareness that all our movements are a series of coordinated efforts between muscles, bones, joints and nerves.
Balancing
Balancing poses teach children that with increased focus, you can increase attention naturally, even in kids who struggle with different attention challenges. It helps develop inner strength, arouse a meditative feeling, and promote stillness and quieting of the mind thereby helping them to deal with the stress.